This evening, the kayakclub planned a surfing-session at sea. Although I did not paddle the 18XS yet, I decided to join in. Conditions were calm: almost no wind, BUT with a lot of swell from a storm at sea a day ago.
To get used to a kayak normally I paddle a testkayak at inlandwaters first, but this seemed a perfect situation to start testing right away.

I started with the rudder locked wich is, to my opinion, the way for leaving the beach. This possibility, to retract the fin, is an enormous improvement compared to the fixed fin in the older versions where the fin ploughs through the sand.

With the fin retracted, the kayak was very lively on the waves. Much more than I expected from such a long craft. This evening the waves were not very high; somewhere between 0,5-1 m. But the waves ran quite long before tumbling over. Surfing was real fun. The 18XS was fast enough to pick up a wave easily. Having picked up a long wave surfing is real sensation. Especially when you unlock the rudder and use it to maneuver on the wave.
The waves were not very steep but now and then, when a higher, steeper wave came by, I got the impression that the 18XS will not pearl very easily. Instead the bow stays high on the water instead of diving, thus making surfing more safe. A pity for you if it is you hobby trying to pearl (don't forget your helm;-))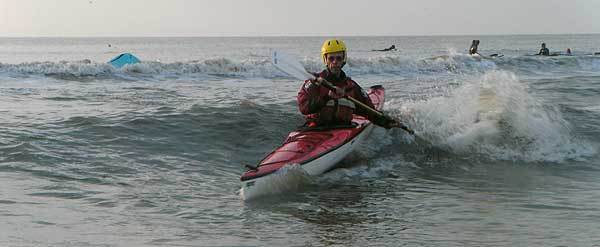 unfortunately no picture available with the 18XS in a nice wave
Most of the time conditions were like this:

Having the rudder unlocked I was really amazed because it was a dream to steer the 18XS: I could steer her wherever I wanted. The steering is very direct and the kayak responds immediately. This is how it should be !!!!
The difference with the old rudder-construction with fixed fin could not be greater.
Only when a wave is steep and starts cresting, the kayak could broach. Edging the kayak could help a bit to prevent this. Surfing with the rudder locked will result more often in broaching .

But paddling in waves with the rudder locked is also fun because the kayak responds very good to edging. It is, despite for its long length, a very maneuverable kayak when you edge her.

For edging the seat is a bit too wide for my hips, so later I will add some foam for better performance.
Especially for the high brace I need this improvement of hip-contact.

Stability in the waves is very good. I did not feel uncomfortable for 1 second

Contact with knees and feet is also excellent.

Rolling and sculling is also easy in this kayak.

The retractable fin is controlled by a "rope and cleat" system. I used it only to retract the fin completely. Precise adjustment with the fin halfway retracted is possible in theory, but in practice this is too difficult.

The water-tightness of the compartments could be better. In the fore compartment there were only a few drops to find, but in the back-compartment I found approx. 250ml of water. To my opinion this the result of a small hole in seam of the rubber which is glued to the underside of the hatch. This spot is always, also in another kayaks with similar hatches, the weak point in water-tightness. Good maintenance is required!

Finally I dare say that the first impression of paddling the Epic 18XS is very positive.

Later I will paddle her also in a bit more aggressive surf.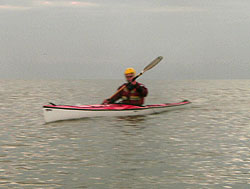 To be continued.