Plans are plans. Reality differs sometimes. For today the original plans were to paddle around Noorderhaaks near Den Helder. But the wind decided different: with an expected 6Bft this was not for all the participants a good idea.
So we decided to paddle on the IJsselmeer, starting at Wijdenes and crossing the Hoornse Hop; known for possible disturbed and/or high waves. For this area the expected wind was 4 bft.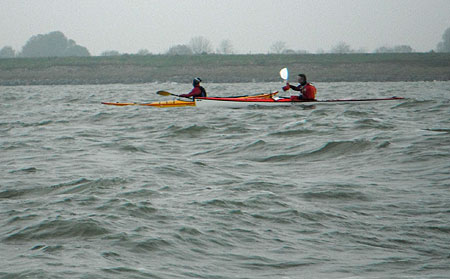 picture C.Groot
For this trip I finally improved the width of the seat by adding 2 foam pads for better hip-contact.

Starting from Wijdenes our plans were very simple: first paddling South, against the wind, and after 1,5 hours a little floating break. This should make us fit enough for surfing back to our starting point.
And that's how it worked.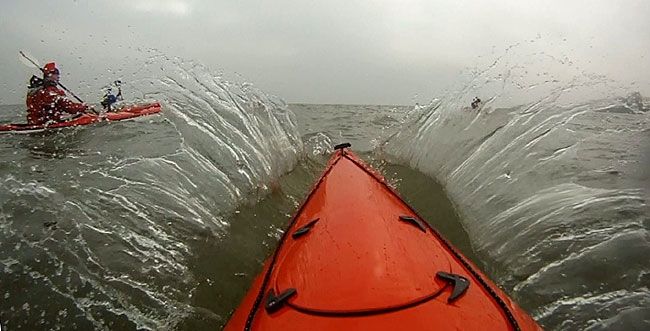 The 18XS had no problems with the waves (height approx. 40-50cm) paddling direct into them on our southward leg. The waves seam rather short and the 18XS bounces over the waves; throwing up water after each landing behind a wave. Compared to the other kayaks I think the 18XS did more splashing than the other kayaks. I bit annoying actually. Could it be that I am floating too high on the water with my unloaded kayak?
Apart from this splashing it seems that this kayak stays quite level whereas the other kayaks rocker a bit more on waves. Nevertheless I was a bit surprised about this splashing because Epic tells that her kayaks are superior compared to conventional seakayaks as it is on performance in waves: splicing waves without splashing. They even published a film on Youtube about this subject.
Or is it that the 18XS has more volume down in the hull than the 18X? And does the 18X a better job on these shorter waves? Looking at the way the water leaves the bottom of the hull I tend to believe that this explanation for the 18XS comes close.
But I can tell that the 18XS at sea, in longer ways, performs more like expected.

The front deck and bow had volume enough not to be submerged in the waves

Again I liked the stability: at our floating pause I managed to drink a cup of tea unsupported; which is not bad. Not that I was sitting very relaxed while drinking, but it works.
May be the newly added hip-pads helped me being stable enough during this exercise.

On our way back we were pushed by wind and waves. As I wrote above, I thought that the waves were rather short. On our way back this seems to be not true as the 18XS picked up a wave easily surfing very fast being able to use the rudder for steering if necessary. Unless a wave start cresting than the kayak breaks out sideways.
The other kayaks are also surfing well but my kayak has two advantages: a few paddlestrokes are enough to pick up a wave for surfing. And second: once surfing on a wave the rudder is very convenient to keep the course wanted.
It was real fun! :smile: A pity that the way back takes only half the time of the working against the wind and the surf-fun is over.
Details: