As you probably know I would like to test-paddle a kayak at least during one session at sea in 6 bft. Today the wind was 6bft indeed, but she was SSW and blowing away from the coast. So no waves. So more sessions are necessary :wink:

BUT it was an ideal occasion to inspect the sandmotor today.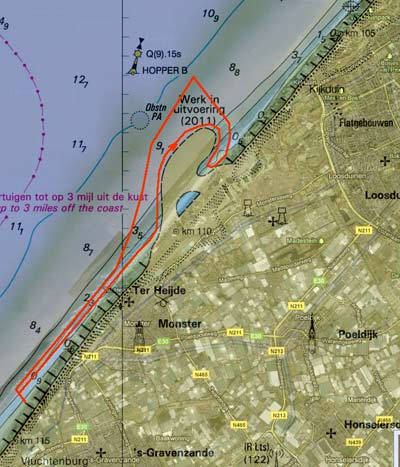 Along the beach were almost no waves but when we reached the south coast of the sandmotor there were interesting, cresting waves.

picture H.Heupink
As the waves at sea are longer, the 18xs does not splash all the time like on the IJsselmeer a few weeks ago. Only after passing a cresting- or almost cresting, steep wave you see this phenomena. But in this playground this splashing is quite acceptable for me:

At certain spots I could make good surf-rides. And when the waves were not surfable I paddle between the cresting waves; parallel with them testing stability and performance in rough water.

picture H.Heupink
Surfing my conclusions are unchanged: surfing is very nice in long, non-cresting waves.
This film gives an indication how the kayak surfs
When a wave starts cresting, the kayak broaches quickly; using the rudder or not makes no difference.
Studying the pictures below I thought that this might be caused by the wave lifting the rudder & fin too high above the water-surface. And in that position the wide, flat aft-ship is easily pushed sideways by the wave.

pictures H.Heupink
We had a break at the north side of the sandbank. After that we headed out more at the open sea and we experienced a very disturbed sea with waves from different directions. Probably this is caused by the stronger current at the head of the sandbank. Not that I felt unstable, but I had to be alert not to be surprised by a wave. Hans, in his Tahe Greenland, had the same experience. Only Roel in his P&H Atlantic had no problems. Meaning that his kayak is the most stable of the 3 kayaks.

We crossed the area with cresting waves again.
Some impressions are: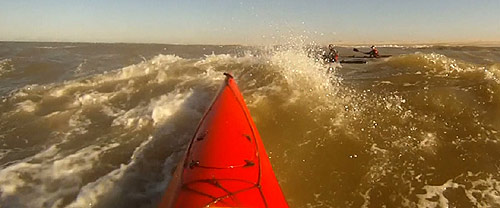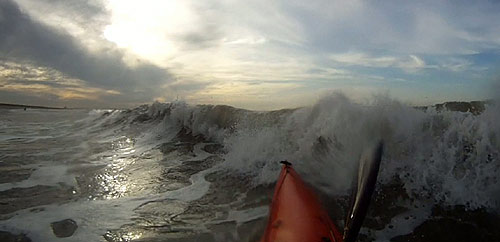 Paddling to our starting point the wind has decreased. The waves are not very short and the 18XS is not splashing any more like in the short waves on the IJsselmeer on 30 oktober.
Coming more and more in the lee of the coast the waves lowered gradually and allowed us finally ending in a peaceful landing.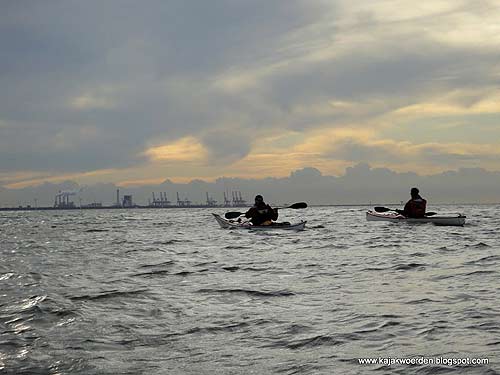 picture H.Heupink