Until now I collected already quite a lot of information about the performance of the 18XS.
The only issue I wanted information on was WIND. Tis weekend it was windy enough but unfortunately I could not find a buddy to organize a test-session. Although I must confess that the 8bft-wind was a bit too rough to go out at sea today.
So instead I went to the Alkmaardermeer where the wind blew at 7 bft with gusts up to 8bft.
I met Max there by chance and together we let us blow by the wind to the middle of the lake. Halfway Max waited in the lee while I went into the soup in the middle of the lake.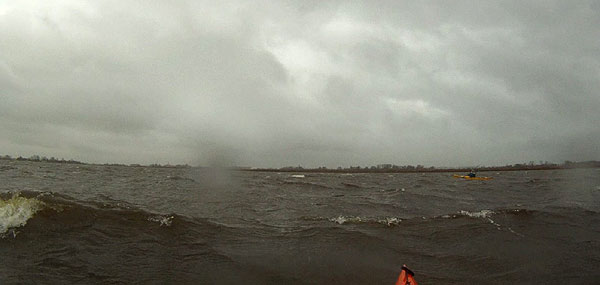 I paddled all courses in relation to wind and waves. Probably it is no surprise to you, after having read the previous reports, that I was happy with the stability.
Holding course and changing course in wind and 60cm-waves was no problem.
I did not dare to lock the rudder and steer with sweepstrokes&edging because I was alone in the middle of the lake and in these winds everything is just a bit more difficult. Besides that I knew already that you need the rudder in this kayak.

After having find Max we went back to the club. Quite a job, working ourselves against the wind.
While plowing against the waves I noticed again a difference between Max' Mariner and the 18XS: the Mariner cuts the waves more gentle.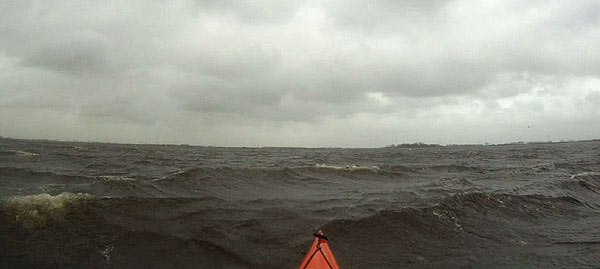 A new observation for today was that the 18XS,in the strongest gusts, leecocked more than I could manage with the rudder. I had to support the rudder with a edging and sweepstrokes. This combination with the rudder worked perfect.

But I dare not thinking of a situation, in conditions like this, that the rudder stops working.

I think that the conditions of today matches a 6bft condition out at sea.
So now I am going to think about the question if this was my last test-session or that I will add a session at sea before I start writing the summary of the test.