Having paddled the 18XS during a few months, I noticed a few issues that should be mentioned in my testreport about her.

During the last few weeks paddling the 18XS, I wondered why the fin did not drop to its maximum depth. It was if there was some obstruction. Taking a close look later, I discovered some corrosion inside the rudder. At the pivoting point of the fin a metal ring is mounted; which was corroded. My opinion is that the corrosion produces more friction. Probably the elastic has not enough power to pull the fin over this increased friction.
.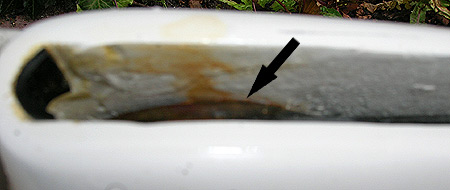 This is surely a point Epic can improve on with non-corroding rings!
I found also corrosion on the screws of the cover on the mechanism for operating the fin in the rudder.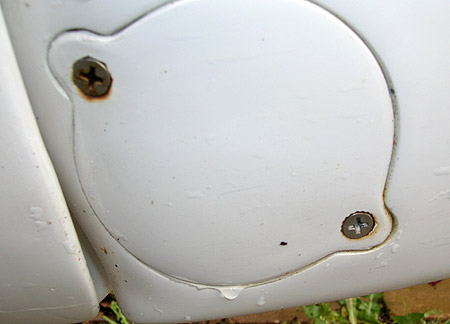 During this inspection I also noticed that the rudder-shaft has quit a lot of play. The best way to show is the video underneath
This worries me because it made me wondering what will happen on the long term: will the rudder, being a essential part of this kayak, function as good as it did until now?

The seat is a bit wide for my hips, but luckily it is very easy to adjust the width with some pieces of hard foam.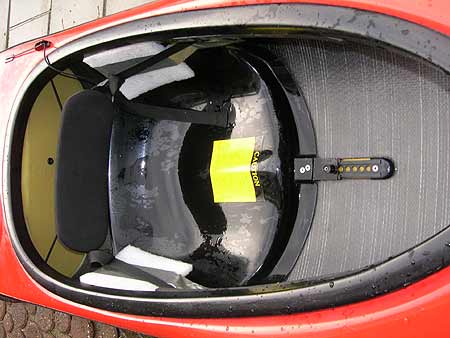 Of course you can paddle the kayak while the seat is wide, but in waves you feel more secure if you have contact with your hips.

Finally I would to add to this list, that the hatch of the aft-compartment was leaking. Not in big quantities, but 20ml of water is enough to soak something of your equipment in there.
To investigate, I filled the compartment partially with water to look if the water comes through the bulkheads. The only thing found was a small drop of water leaking along the rudder-cables. To my opinion this was not enough to explain the water I fount.
Looking further I noticed a small hole in rubber underneath the hatch at the weld forming a closed ring of the rubber profile. Closing/opening the hatch you could also hear a hissing sound through this hole, especially when wet.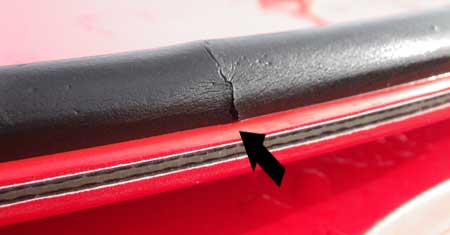 I tried to proof this hole was the cause for leaking by closing the hatch-edge with tape. Because of the 4 clamps, keeping the hatch closed, I did not succeed creating a watertight connection and found water inside the compartment anyway. So I cannot demonstrate where the leak is. However, the leak is there and I hope that Epic can solve this.