10.10.2012

On forehand it is always difficult to predict the weather. Today Roel and I planned circumnavigating Kernwerderzand; starting at Harlingen. The weather turned out to be very quiet with a NE 2bft. wind. Lucky enough a rainsquall passed by, pushing the wind to approx. 4 bft. for about an hour. Anyway it was a useful trip for the test.

At first, with the wind at 45 degrees from behind the Etain weathercocks slightly, needing the retractable skeg to drop for 50%. This is not strange because, to my experience, a seakayak needs often more skeg on wave-less seas. This is because small waves make most kayaks more maneuverable causing small course-corrections being done without knowing.

Another issue which became clear is the knee contact. As described before the knee-contact is a bit painful on a ridge in the deck next to the cockpit-rim.
Today I saw that this is not strange because the "wings" in the cockpit rim, which are supposed to give support on the thighs, do not function at all: pressing my knees against the deck there is no contact between these wings and the thighs. There is approx. still 1 cm space between thigh and wing. I can put 1 finger in between.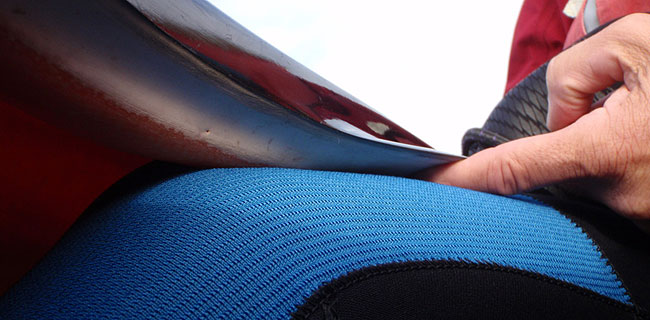 Of course it could be that in the design of the cockpit some foam at the under side of the "wings" is included. BUT, you can wonder than WHY Valley does not standard apply some foam there because it is an essential issue in the design.
I guess that the Etain needs approx. 10-15mm foam.

After rounding the south of Kornwerderzand the wind increases to 4 bft NE And because the wind is blowing against the current we have nice, short waves. Just like Monday the Etain nicely cuts through the waves.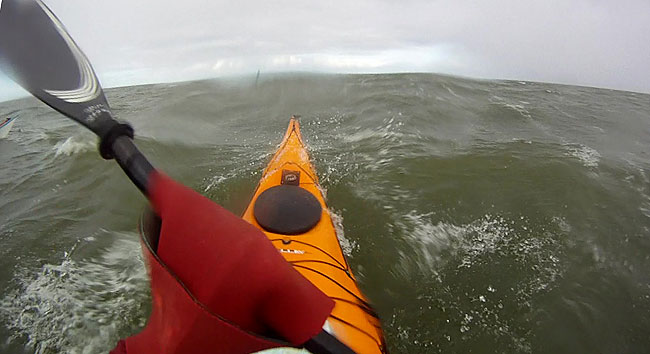 A headwind, coming from an angle, is always interesting for studying the kayaks behavior. Normal is any kayak to leecock shortly when passing a wave. After playing around with the adjustment of the retractable skeg of the Etain it turned out that I did not need the skeg. Without using the skeg she stayed on course precisely. Dropping the skeg made her leecock. But without skeg her behavior is nicely balanced.

After changing course for a break at the sand-plate we paddled first with long waves from the left: the Etain was still very stable. Changing a bit more south I made a real nice surf on a long wave. But this confirms only earlier observations that the Etain surfs well.

After lunch the weather was nice again and produced nice pictures.