13.10.2012

In earlier posts I wrote about the bad knee-contact in the cockpit. This bad contact is not just with my knees, but Leo, who owns this kayak, isn't either happy with that.

Last test-session I defined the problem: the wings on the cockpit rim, which are supposed to support the thighs, does no make any contact. Instead the kneecap is pressed bluntly against the underside of the deck where also a ridge can be found. To my opinion this is or a design-fault in the cockpit or the mistake is not having covered the underside of the "wings" with a thick layer of foam.
In both cases I cannot really understand why Valley delivers such a cockpit because almost no one will fit comfortable in this cockpit.

For this test I concluded that I had to add 2,5 cm of foam to the underside of the "thigh-wings". The result was encouraging. The kneecap only slightly touches the deck now. To improve that I added 1 cm soft foam at that spot.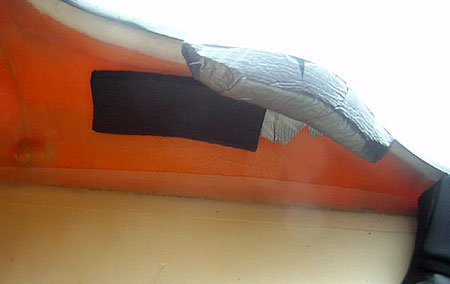 The result was a rather comfortable sit-position now.
The only drawback was that the 2,5 cm foam, that I used, was rather solid and rather narrow, causing a bit of more concentrated pressure on the thigh. That can be done better by a any Etain-owner, but now and for me this improvement was sufficient. It was much better than it was.

Of course I tried it on the water and it gave me so much confidence that I decided for a rolling-session as well. Jos was willing to film my exercises.

There was almost no wind and paddling on flat water learns me that the Etain responds perfect to edging and leaning now. More than that: the Etain turns out to be very maneuverable when on edge. This in contrary to what I wrote after the session in a heavy sea.

Thanks to the improvement of the cockpit, I can be very clear about the result of my exercises:
high brace: very supple

rolling: easy

 Of course when paddling normally you don't push the knees&thighs constantly to the deck. They are just in a very alert position now.
When necessary for any unexpected thing to happen, you just tense the muscles and your legs are in the correct position to take the requited actions.